Hardware Supply Professionals in Ardmore, PA
Since 1982, DMI's staff of career professionals has focused on prompt personalized service.

Family owned and operated, DMI has grown over the past three decades to over 20,000 square feet of retail space. We offer the "old time" shopping experience which simply cannot be found in the big chain stores. We are large enough to satisfy all your home repair needs, yet small enough to care. With our rental division, we have the tools, supplies, and knowledge to help you with any project from a leaky faucet to a new addition.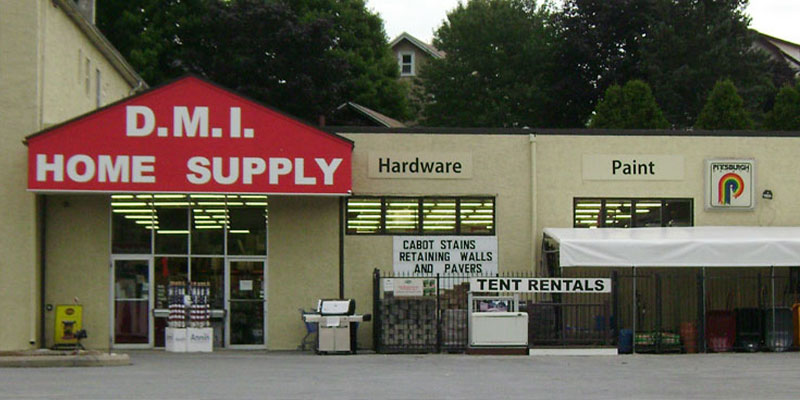 Customer Service is our Mission!
We stock a wide variety of products and tools for your home and garden. Try DMI, your local hardware store, before going to a big chain store. We hope you'll find DMI Home Supply is the home of friendly experts & professionals who are more than happy to help with your next project!
I needed a tiny thin thread screw with a hex-wrench top to replace one that was lost from a bathroom hardware set. It was a highly specialized piece of equipment and I was expecting not to be able to replace it. I didn't know where to look and knew I would need help, so I went straight to DMI. The owner spent 10 minutes with me trying different screws before we actually found one that did fit -- all at a cost of $1.06. (But of course the saved expense of not needing to replace the bathroom wall mount is not factored in.) I NEVER would have been able to get at Lowes or any big box store. I told him I would put DMI in my will. :-)
I have always been impressed by the detail and width of the stuff that is being sold in the store-----after hearing the problem, the staff are precise and candid about the fix, the strengths and weaknesses, any risks, and even other less costly solutions----their style has always been firm, direct, and even sometimes asking you to spend a tiny bit more, but never without a sound reason or explanation. Chuck, Brian, and Sal are all the leading edge of advice and fixes!
Great hardware/home supply store! Huge selection with kind, knowledgeable associates!
We walked into DMI early Saturday afternoon and were greeted by Brian, one of the weekend managers. He was so knowledgeable and so helpful. He took us right where we needed to be, showed us things, informed us on how to build our garden bed...so much personal attention even though they were busy. We were in and out in record time! The customer service we experienced was incredible and DMI had everything we needed! We will definitely continue to support DMI!
Write Review