Hardware Supply Professionals in Ardmore, PA
Since 1982, DMI's staff of career professionals has focused on prompt personalized service.

Family owned and operated, DMI has grown over the past three decades to over 20,000 square feet of retail space. We offer the "old time" shopping experience which simply cannot be found in the big chain stores. We are large enough to satisfy all your home repair needs, yet small enough to care. With our rental division, we have the tools, supplies, and knowledge to help you with any project from a leaky faucet to a new addition.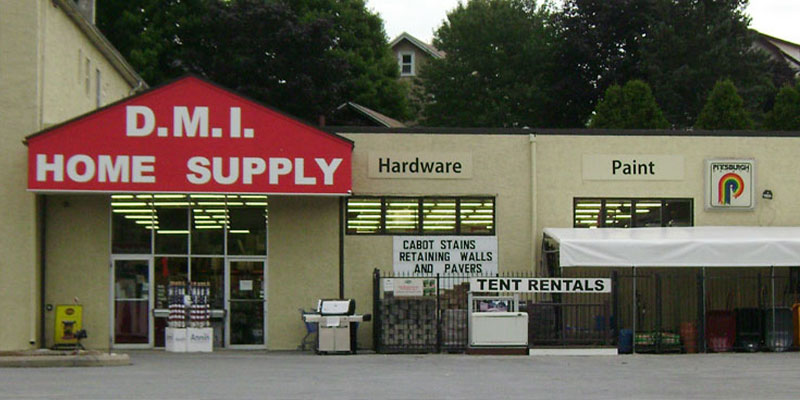 Customer Service is our Mission!
We stock a wide variety of products and tools for your home and garden. Try DMI, your local hardware store, before going to a big chain store. We hope you'll find DMI Home Supply is the home of friendly experts & professionals who are more than happy to help with your next project!
Visited this store to have duplicate house keys made. The young woman who waited on me was very helpful, and made my visit a very pleasant one. Both keys were properly cut, and they worked fine in my locks.
This is a fantastic store and just a what a hardware store should be. I am new to the area and came to the store on a friend's recommendation. Everyone here is super knowledgeable and friendly. I got the parts I needed and the advice and instruction on how to do the job. Thanks to this store my plumbing problem was solved. Highly recommended.
Whether it's a small screw, nut or bolt or something more elaborate that requires some sound building advice, I use DMI in Ardmore. Their helpful advice can usually solve your problem whether they have the item or not, but in most cases, they do. I used DMI for many years. Not to be missed, is the huge tool rental business that they do. I've rented lawn aerators in the past and gotten the job done quickly and in budget. Great place to do business.
Throwback to the old style hardware store. Everything you could need and imagine for all your needs. Friendly, knowledgeable, and helpful staff.
Write Review