Hardware Supply Professionals in Ardmore, PA
Since 1982, DMI's staff of career professionals has focused on prompt personalized service.

Family owned and operated, DMI has grown over the past three decades to over 20,000 square feet of retail space. We offer the "old time" shopping experience which simply cannot be found in the big chain stores. We are large enough to satisfy all your home repair needs, yet small enough to care. With our rental division, we have the tools, supplies, and knowledge to help you with any project from a leaky faucet to a new addition.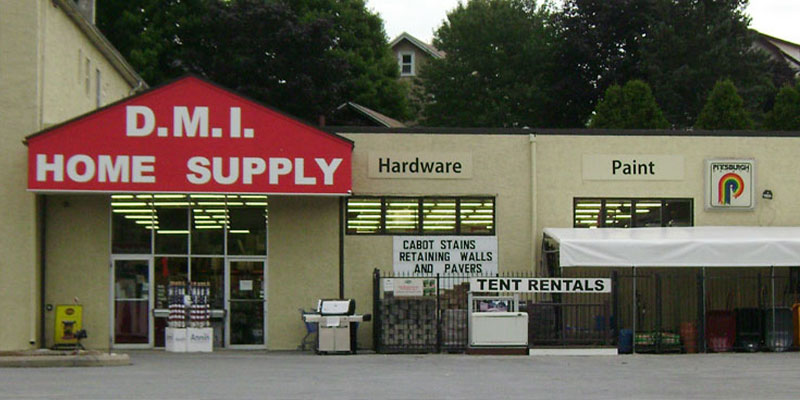 Customer Service is our Mission!
We stock a wide variety of products and tools for your home and garden. Try DMI, your local hardware store, before going to a big chain store. We hope you'll find DMI Home Supply is the home of friendly experts & professionals who are more than happy to help with your next project!
I'll easily drive out of my way to this store rather than go to the nearest Lowes. Their people make themselves available to answer questions & their choice of stock is every bit as good.
The people who work here are friendly and helpful. They also have a cute cat that wanders around. There are plenty of useful products and tools, some things look like they were bought ten years ago and pushed aside for other items, which I like because it means they probably have that obscure thing you're looking for. Everything is really well priced and the experience shopping there is much better than any chain hardware store.
I have been going to DMI for years and the folks there couldn't be nicer, more knowledgeable and willing to go above and beyond. They have cut a million pieces of wood for me for projects since i don't have room for a table saw, and offered advice and creative solutions so many times when i was stumped on something. they have a great selection of things, often specialty items that you can't find in a big box store. they are the best and i drive all the way from the west philly to them.
We walked into DMI early Saturday afternoon and were greeted by Brian, one of the weekend managers. He was so knowledgeable and so helpful. He took us right where we needed to be, showed us things, informed us on how to build our garden bed...so much personal attention even though they were busy. We were in and out in record time! The customer service we experienced was incredible and DMI had everything we needed! We will definitely continue to support DMI!
Write Review